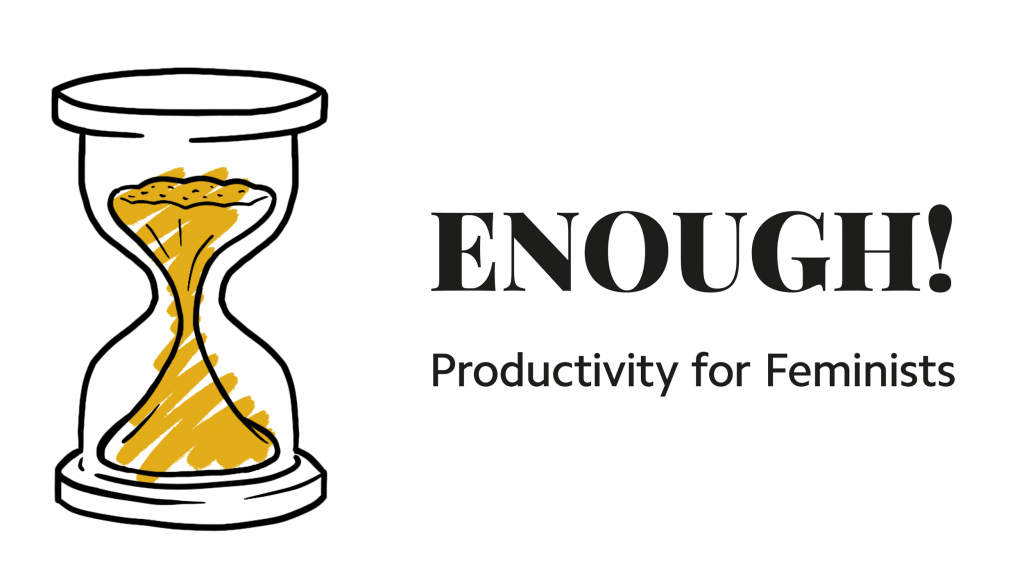 Enough! Productivity for Feminists is a group coaching programme offering an alternative to the macho, neoliberal, how-to-suck-as-much-productivity-as-possible-out-of-the-day-so-you-can-contribute-to-the-knowledge-economy-and-advance-your-career mode of thinking. We focus as much on the being as the doing, experimenting with skills and strategies while keeping our sanity and values at the forefront.
The heart of this flagship Enough! programme is small-group coaching to build awareness, support and solidarity. The group coaching is supported with optional one-on-ones, exercises, accountability buddies and a book club. Together, we create a space for reflection, connection, resistance and change.
Essential programme components: Six small-group coaching sessions.
Optional programme components: Accountability buddies (arranged by Laura, then self-directed); Book club (facilitated by Laura); Reflection exercises; and one 30-minute one-to-one session with Laura.
Who: All feminists welcome! Any sexual orientation, any gender (including non-binary and trans), any race, religion, or nationality.
When & Where: The next programme will begin in January 2022 and will be held on Zoom. Specific dates forthcoming in late 2021. If possible, scheduling will be adapted to accommodate participants from various time zones.
Content: Each year, the programme is structured around participants' interests and goals, gathered through enrolment interviews before the programme starts. Possible topics include (but are not limited to): daily practice; producing v creating; self-talk; modes of working; technology; rituals; metaphors; agency; solidarity; rhythms & cycles; priorities & values; forgiveness & gratitude; rest; inner critics; affirmations; and being liked.
Yes, it's a long list. There are so many possible ways in to these big questions, and this is one of the things that distinguishes the programme. Enough! is not a formula or prescription; it is an evolving framework for experimenting, changing, and resisting.
Cost: In 2022, the programme will be offered on a sliding scale of: £645 (full rate*); £495 (reduced rate); or £345 (student/contingent rate) . Please choose what you can afford to pay. Payment will be made directly to Laura by bank transfer or PayPal, with necessary paperwork provided for those seeking reimbursement from their employers, and payment by installments available. Deposit of £100 due to reserve your space.
To Enrol: Email to reserve a space. Laura will invoice you and arrange a 20-minute enrolment interview with you (this interview is in lieu of sending you an enrolment questionaire).
2022 Dates:
Monday Group: TBC
Tuesday Group: TBC
Wednesday Alumni Group: TBC
Book Club: TBC
*By paying the full rate if you can, you help keep the programme available to those who can pay less.